If you are stuck indoors with your dog, don't fret! A bored dog gets into trouble, and by trouble, we mean the possibility of chewed-up shoes, furniture, and basically anything it can sink its teeth into. So what's the best solution to keep trouble at bay when there is no option to head outdoors? 
Keep your hound happy and entertained at all hours of the day with the Snuffle Mat from Stylish Hound. Your pup probably has a busy schedule full of walks, feeds, playtime, and cuddles, but in-between appointments they need something to keep them engaged. The Snuffle Mat helps to stimulate your dog's prized possession, their nose. 
Your dog's natural sniffing talents will be put to the test as they rummage for treats nestled into this lovely, squishy Snuffle Mat pad. Your best pal will spend hours exploring their new favourite pastime.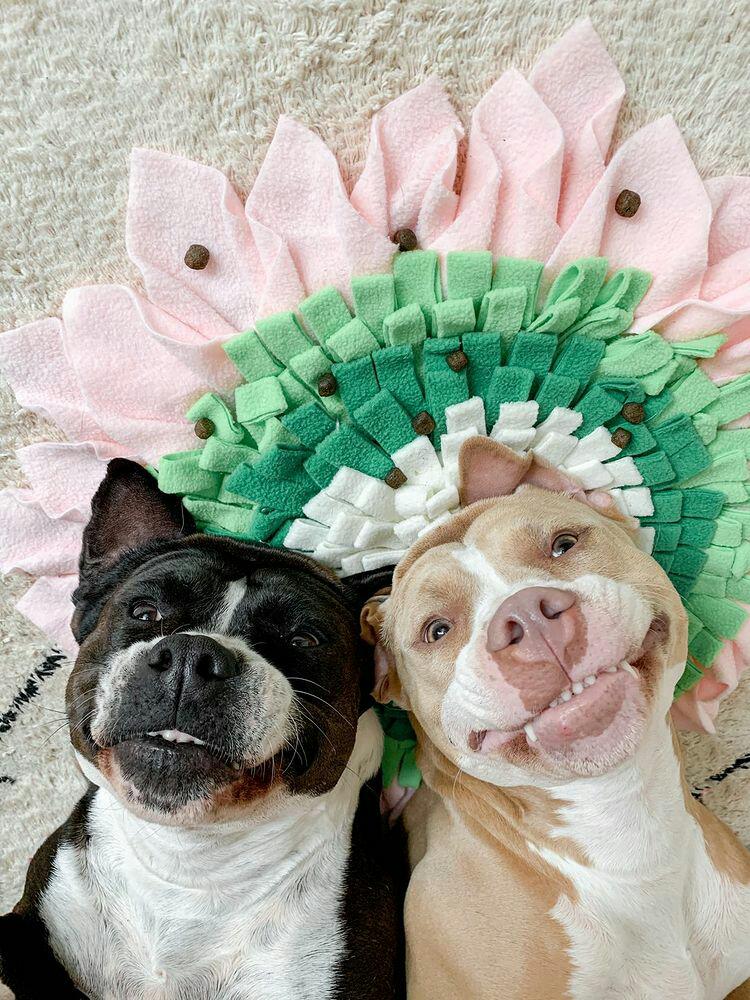 How to use Snuffle Mats to mentally stimulate your dog!
① Grab some dried food, treats, or kibbles Tip: Use your dog's favourite dry food and treats. Avoid any wet food. ② Hide treats in a fold, layers of the snuffle mat Tip: make it easy for first-time snufflers to set them up for success ③ Encourage your pooch to sniff or forage around the various flaps to find the little food treasures. Tip: Lots of positive praises for the first-time snufflers. ④ Shake out the snuffle mat for any unfound treats. Machine washable to clean between snuffle sessions ⑤ Bonus for Pro-snufflers We have 2 levels of snuffle mats. If you are a pro snuffler, check out our advanced snuffle mat for deeper and more pockets!
Tip: We have 2 levels of snuffle mats. Start with easier level to set your dog up for success before moving onto the Advanced level. If your dog moves too fast or does not understand the game, they will become frustrated (most likely start to 'rip' the mat!).  
LEVEL 1: BEGINNER - INTERMEDIATE
Hide your dog favorite treat in folds and layers.
Forget-Me-Nots Snuffle Mat
$54.99
Sold out
Mauve Storm Snuffle Mat
$49.99
SHOP
STYLISH SNUFFLERS  
Check them out on Instagram and TikTok @stylish.hound 
CAMERON
Gorgeous design and perfect size Have been searching for a nice looking snuffle mat for our dog to slow his eating habits. This one is a perfect size, well made, and has a gorgeous design. Our little Dachshund absolutely loves it!
LISA NOONAN
Top snuffle mat! My pup absolutely LOVES her Stylish Hound snuffle mat. She gets so excited when she sees me take it out of the cupboard and she loves foraging for treats in it. Keeps her occupied for ages.
MEAGHAN REYNOLDS
Breakfast isn't such a rush now! He absolutely loves his new snuffle mat! Breakfast now takes 10 minutes instead of 20 seconds and it's a challenge for him!
KELLIE GUEST
Snuffle mat Perfect snuffle mat for feeding my dog through enrichment! Keeps her mind busy and has been so useful as she recovers from injury.
SRISHTI MEHTA
Great enrichment mat! Love the snuffle Mat. Our labrador pup scoffs his food so this is a great way to get him to slow down and eat whilst obviously keeping him busy. Only thing my lab has ripped some stitches off which can be fixed I guess but I wish it was a little more tough. But other than that super happy with my purchase.
JANE HINZ
Loved the snuffle mat. Our Gsp gets a serve of its dry food a day on it, returning again and again to see if she has missed a morsel.