You've seen them on social media: the people who go 'plastic-free' (#strawssuck), who aim for zero waste, who home compost, and even those who live sustainable lives with their pets. You might be wondering how they do it, or what's involved. Well, we're here to tell you that sustainable pet-friendly living doesn't have to be hard! With these tips and tricks, your family can find eco-friendly solutions for all of your furry friend's needs too. Let's get started!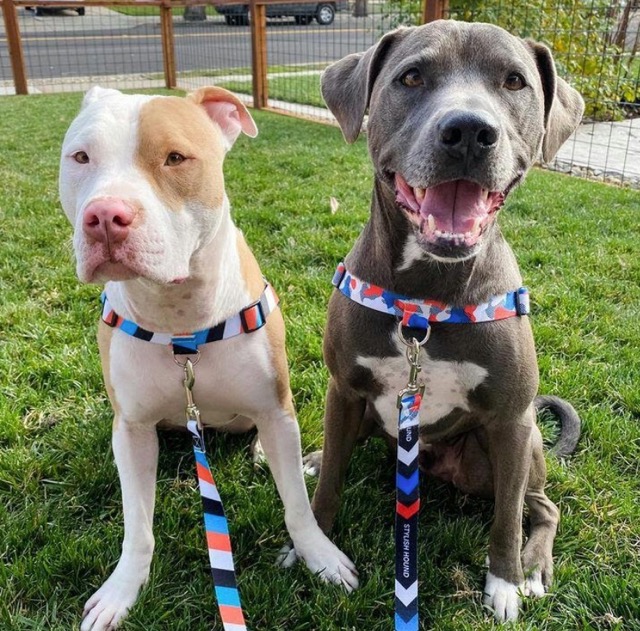 Eco-friendly walk-walkies!
How can we up the eco factor during walk-walkies? Take eco-friendliness in your stride with our Walk collection. Our entire range is made from 100 percent recycled post-consumer plastic, fabric, and metal (that's right—even down to the metal buckles), so you can reduce your carbon pawprint in style.
At Stylish Hound, we pride ourselves on our array of super-stylish designs. We have colours and patterns to suit every taste, whether you prefer the allure of all-black designs or candy-coloured vibrancy. Why not buy your dog a matching harness and leash that are as stylish as they are eco-friendly? If you're keen, you can complete the look with a matching collar, as well. You'll be doing your part for Mother Earth and dressing your dog in the slickest walkwear around! It's a win-win, really.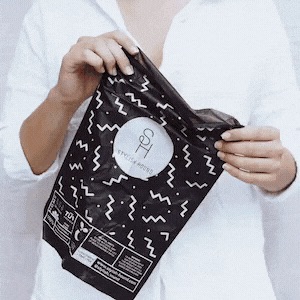 Of course, we can't discuss eco-friendly walks without addressing its most eco-unfriendly byproduct. Dog poop happens, but to leave it on the streets—or anywhere in public—is on par with littering. Dog poop can take 12 months to break down, and its germ-ridden composition can be hazardous to humans and plants. At Stylish Hound, we address this issue by creating biodegradable poop bags. These babies are made from corn starch, meaning they will break down in three months (unlike plastic, which takes hundreds of years to decompose). Better yet, they are compost-friendly. We don't want to brag, but this could well mark the start of an eco-friendly walkies revolution!
We have taken every measure imaginable to make the daily walk super-sustainable. Leave the house equipped with our products and you know you're doing your bit for the environment without compromising on your pet's comfort or appearance.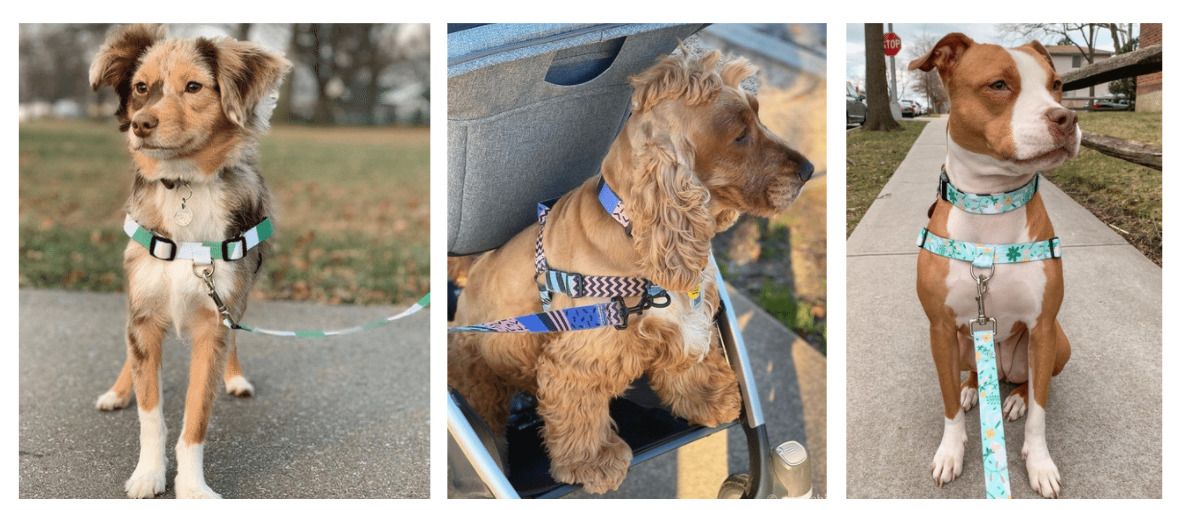 At Stylish Hound, we have taken every measure imaginable to make the daily walk super-sustainable. Leave the house equipped with our products and you know you're doing your bit for the environment without compromising on your pet's comfort or appearance.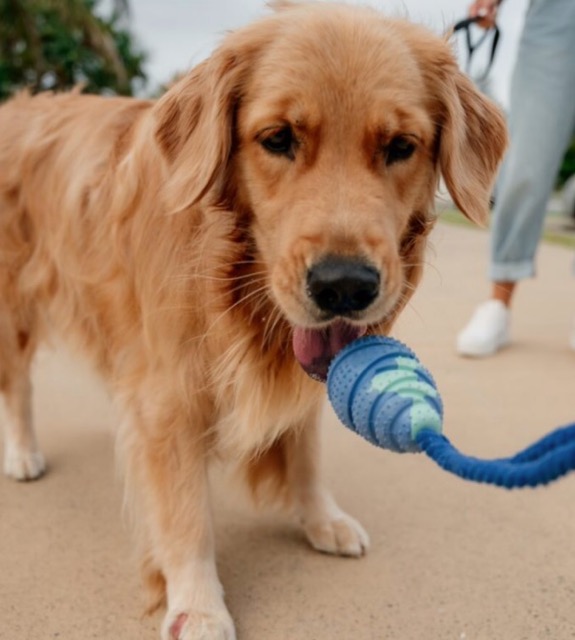 Safe, sustainable chew toys and accessories
Have you ever browsed a dollar-store—or even a pet shop—only to find shelves and shelves of cheap, plastic, often dangerous* dog toys? (*That's right! Toys made from cheap plastic can be toxic to dogs. In worst-case scenarios, dogs can bite off more than they can chew, requiring emergency surgery to remove the ingested fragments.) Not only are these accessories potentially hazardous, but they're pretty much a slap in the face to Mother Earth. These products are the furthest you're going to get from sustainable. What makes it worse is they're not likely built to last.
At Stylish Hound, we stock the safest, most durable chew toys on the market. (We're not just saying this, either. Our track record proves that our Hercules toys last longer than other food-dispensing toys.) Our toys are free of toxins, safer to chew—even for Ruff 'N' Tuff chewers—and made from 100% natural, plant-derived rubber. And because they're plant-derived, these toys are also biodegradable! What a win for sustainability.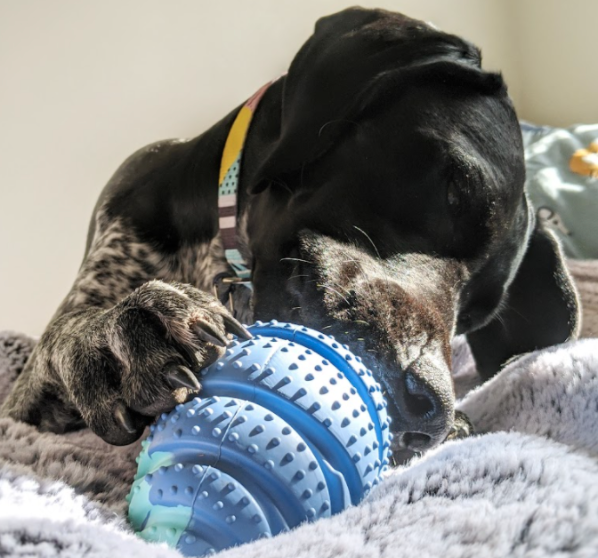 For food-motivated doggos, we have our Hercules. Fill these bright beacons with your dog's favourite food and keep them amused for hours. For the less food-inclined, we have our tug toys, which are essentially our Hercules with a rope attached. Please ensure your dog only bites down on the toy, and keep the rope-handling for humans.
So many of our accessories have been made with the Earth in mind. Do you know, for instance, that our doggy travel water bottles, training clickers, and Night Glow lights are all made from 100% recycled plastic? Whether you're taking your dog on a thirsty adventure, forging associations throughout their training, or adding that layer of visibility to their nighttime walking ensemble, you can walk out into the world with a clearer, more eco-inclined conscience.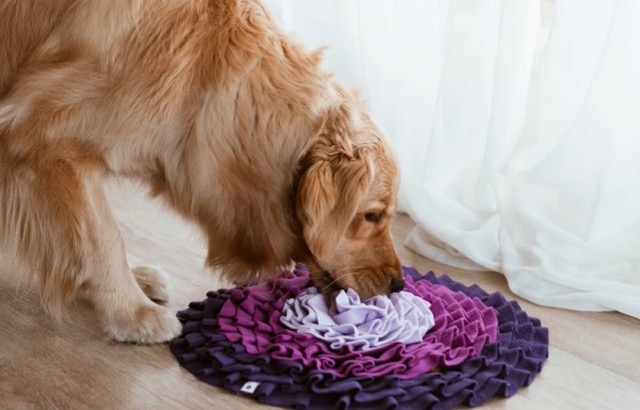 Deliver food in a fun, eco-friendly way
We all know the drill when it comes to feeding time. We typically spoon doggy's food in their favourite bowl—preferably a stainless steel one. (Pro tip: This material is preferred throughout the dog-owning community because it's sturdier, safer to use, and easier to clean! Plus, it's not made from the dreaded plastic, which is less bacteria-resistant, anyway.) This is all well and good, but by presenting the food on a literal silver platter, we're ignoring a dog's natural foraging instincts. This is where snuffle mats come in.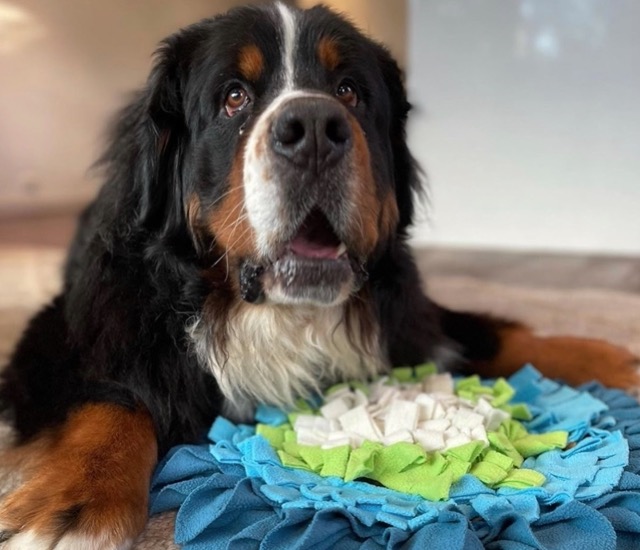 Made from layers of ruffled fabric and a holed plastic sink mat, a snuffle mat provides physical and mental stimulation for dogs. By hiding pieces of kibble beneath its strands of cloth, your dog can tap into their instincts by following their strongest sense of all: their nose. Did you know that a dog's nose contains up to 300 million olfactory receptors? Compare that to the mere six million in human noses and you may appreciate just how scent-centred a dog's perceptions can be. By following their noses, dogs can locate the pieces of kibble. This gives them a chance to sharpen their mental faculties, and also to exercise. At Stylish Hound, our snuffle mats are made from recycled waste fabric, so you'll know your purchase will be good for your dog and for Mother Earth.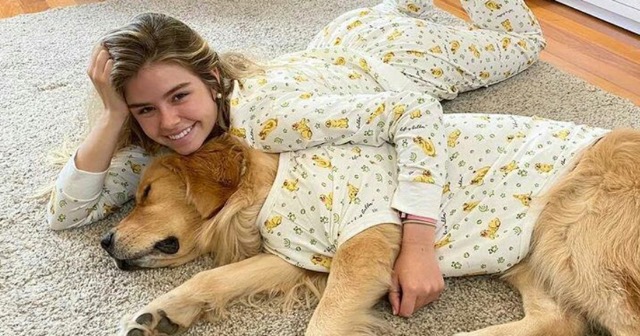 Sustainability Starts at Home
Much as we love venturing in the great outdoors with our favourite fur kids, we believe sustainability starts at home. That's why Stylish Hound stocks sustainable storage hooks—aka Little Helpers—and doggy pyjama sets made from 100 percent natural cotton. Did we mention that the pyjamas are breed-specific and that they're made for humans and hounds alike? Yes, you and your dog can wear matching pyjama sets. It's paw-sitively adorable.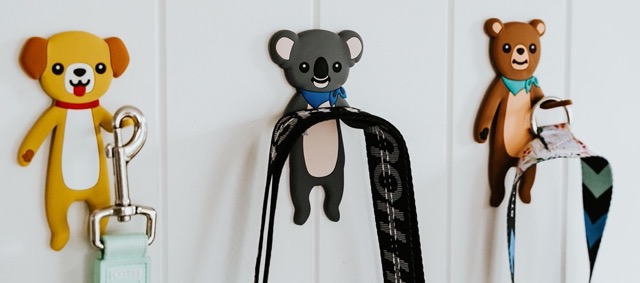 What makes our Little Helpers so awesome? Well, apart from their cuter-than-cute designs
(choose from 'cartoonified' dog, koala, or bear designs), these storage hooks are made from recycled polyvinyl chloride (PVC)—so they can hold anything from your leashes and harnesses to your keys or charging cables! Adorable? Check. Convenient? Check. Adhesive? Check. Sustainable and earth-friendly? Check, check, check!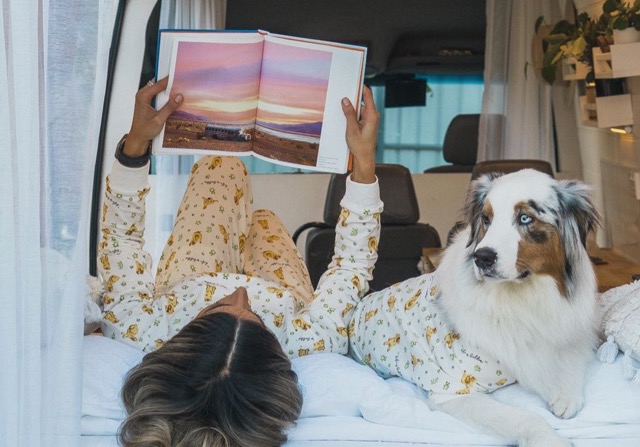 Finally, kick back in a pair of corgi-, beagle-, golden retriever-, or spaniel-print PJs. These pyjamas are available in women's, men's, and dogs' varieties—the women's of which are available in seasonal variations, too (i.e. summer and winter). These pyjamas are an adorable way to bond with your fur family, and they're made from 100 percent natural cotton. This is easy on the Earth, and also on sensitive skin. (Not to mention: cotton is a high-quality product, so you'll also get maximum comfort out of these beauties.)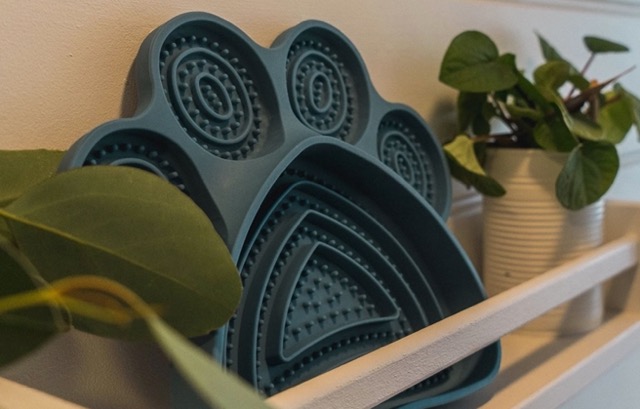 If you're living with a pet, you're going to need a lot of resources. At Stylish Hound, we value the Earth as much as our doggos love rolling around in it. We go above and beyond to ensure our range is certified sustainable and causes as little harm as is paw-sible. An investment in our products is an investment in sustainable pet-friendly living. We hope we've inspired you to think twice about where your products come from.